Been a while since I've posted anything…so here is this
Yes.
(we are not dead over here…and wordpress seems to lack proper unicode support for post titles
)
I don't know much about these guys but $1,000,000 isn't a bad payout for 5 days of playing a game

http://www.navi-gaming.com/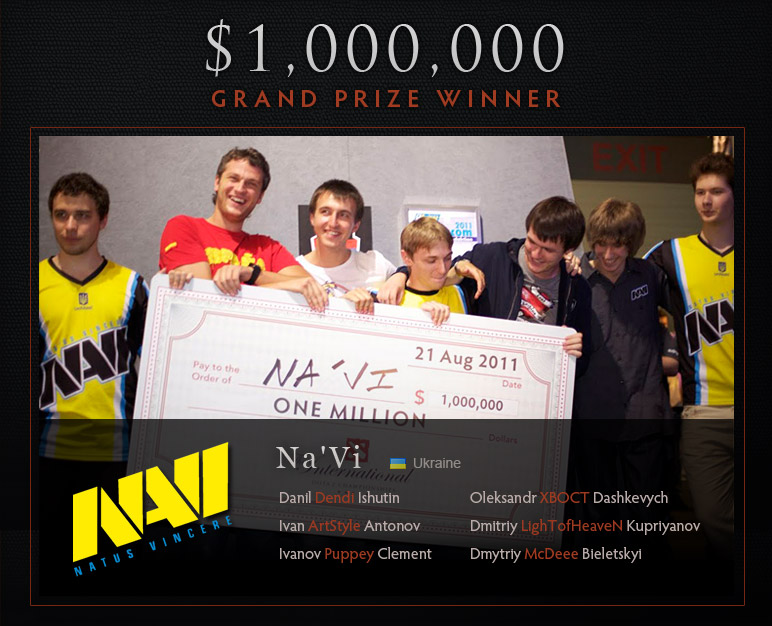 Details are scant, but it's official, CS:GO has been announced! There is no launch date, no screenshots or videos yet, and it looks to be coming out on PC (and consoles; Valve I am disappoint…)
From the official steam page:
Counter-Strike: Global Offensive (CS: GO) will expand upon the team-based action gameplay that it pioneered when it was launched 12 years ago.
CS: GO features new maps, characters, and weapons and delivers updated versions of the classic CS content (de_dust, etc.). In addition, CS: GO will introduce new gameplay modes, matchmaking, leader boards, and more.
"Counter-Strike took the gaming industry by surprise when the unlikely MOD became the most played online PC action game in the world almost immediately after its release in August 1999," said Doug Lombardi at Valve. "For the past 12 years, it has continued to be one of the most-played games in the world, headline competitive gaming tournaments and selling over 25 million units worldwide across the franchise. CS: GO promises to expand on CS' award-winning gameplay and deliver it to gamers on the PC as well as the next gen consoles and the Mac."
CS: GO is being developed by Valve in cooperation with Seattle-based Hidden Path Entertainment. The title is targeted for release in early 2012 and will be playable at this year's PAX Prime and Eurogamer Expo.

Some more links:
http://eseanews.com/index.php?s=news&d=comments&id=9969
http://www.reddit.com/r/IAmA/comments/jgehv/iama_guy_who_spend_the_day_at_valves_headquarters/

So everyone, Cross your fingers and hope it doesn't suck

(Valve if you're reading this, please don't make it too expensive either)

…of life on a natural satellite (JOHN MADDEN?)
Some epic Counter-Strike 1.6 bloopers
I've recently caught the minecraft bug…it's a fairly simple yet epic and very addicting game…see for yourself